A team led by the University of Toronto researcher discovered that a blood antibody can predict severe Crohn's disease up to seven years before the disease is diagnosed.
Crohn's disease is a chronic inflammatory bowel illness for which simple and effective biomarkers are missing prior to diagnosis. It roughly affects 0.3 percent of the global population and is becoming more common. More than 135,000 people in Canada, which has one of the highest rates of Crohn's disease, suffer from the disease, which can cause abdominal pain, diarrhea, weight loss, and anemia, among other symptoms.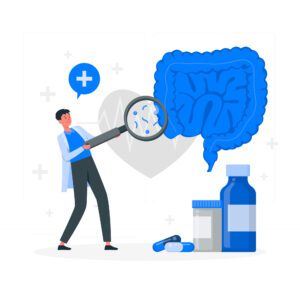 Patients with ileal Crohn's Disease (CD) have anti–GM-CSF autoantibodies (aGMAb). Their elicitation and mechanism of action during or before illness are unknown. A blood test could be a quick, low-cost, and non-invasive technique to assess risk for complicated Crohn's disease, allowing for early intervention before subclinical inflammation progresses to chronic symptoms.
The research team was led by Prof. Arthur Mortha, an assistant professor of immunology at the University of Toronto's Temerty Faculty of Medicine, who collaborated with Professors Jean-Frederic Colombel and Sacha Gnjatic at the Icahn School of Medicine at Mount Sinai in New York and an international team of researchers from France and Portugal, discovered a Crohn's disease serological biomarker that plays a role in the disease's etiology and arises years before the disease manifests its full clinical spectrum.
According to Prof. Mortha, the current pharmacological arsenal for relieving remission in Crohn's patients is promising, but it has limitations. A clinical requirement is for a biomarker or predictive signs to guide therapies. Furthermore, our research implies that this biomarker could be an excellent therapeutic target for intervention and possibly prevention.
The research findings were reported in the journal Gastroenterology on 24th May 2022. 
An antibody generated by antibody-secreting cells in the stomach serves as a biomarker for complex Crohn's disease. These antibodies stop intestinal immune cells from communicating by attaching to and preventing the activity of a protein called a cytokine. Granulocyte Macrophage-Colony Stimulating Factor is a cytokine that helps maintain immunological homeostasis in the intestine by increasing protective and antimicrobial immunity.
Prof. Mortha and colleagues discovered that these antibodies negated the cytokine's protective effects and altered intestinal homeostasis in a large subset of Crohn's patients. Years before diagnosis, these alterations were detected in the blood of patients, leading to a weakened immune system, which eventually resulted in damage to the bottom part of the small intestine, a condition known as complex ileal Crohn's disease.
To detect and define the biomarker, the researchers collected blood samples from the US Department of Defense Serum Repository. They compared samples from 220 military veterans who acquired Crohn's disease to patients with ulcerative colitis and hundreds of healthy controls over the course of a decade.
The biomarker accurately predicted the probability of severe ileal Crohn's disease, albeit not all patients with the antibody had the same type and severity of the disease, highlighting the multifactorial character of the disease, according to Prof. Mortha. The biomarker was found in around a fifth of Crohn's disease patients.
Notably, the researchers discovered that changing the cytokine's molecular properties preserved the cytokine's protective benefits. According to Mortha, engineered versions of the cytokine with improved biochemical characteristics can be made virtually undetectable to antibodies.
According to Prof. Mortha, the technique allows the researchers to see how each patient's antibodies uniquely neutralize the cytokine. The researchers are now engineering cytokines that can escape neutralization by these antibodies within individual patients. This method could lead to highly customized treatments that reverse the antibodies' paralyzing effects and restore immunological equilibrium in the colon.
It's incredible that our mucosal immune system can maintain a fight against such large numbers of bacteria in the stomach and that we're not in excruciating pain. The last decade has taught us a lot about how our gut-immune cells communicate to maintain a healthy balance at this interface. It's now time to put what we've learned into practice, explains Prof. Mortha.
In short, Anti-GMAb recognizes specifically glycosylated epitopes and impairs myeloid cell and ILC balance associated with altered intestinal immune homeostasis, predicting the diagnosis of complex CD long before the disease is diagnosed.
Story Source: Mortha A, Remark R, Del Valle DM, Chuang L-S, Chai Z, Alves I, Azevedo C, Gaifem J, Martin J, Petralia F, Tuballes K, Barcessat V, Tai SL, Huang H-H, Laface I, Jerez YA, Boschetti G, Villaverde N, Wang MD, Korie UM, Murray J, Choung R-S, Sato T, Laird RM, Plevy S, Rahman A, Torres J, Porter C, Riddle MS, Kenigsberg E, Pinho SS, Cho JH, Merad M, Colombel J-F, Gnjatic S, Neutralizing anti-GM-CSF autoantibodies recognize posttranslational glycosylations on GMCSF years prior to diagnosis and predict complicated Crohn's Disease., Gastroenterology (2022), doi: https://doi.org/10.1053/j.gastro.2022.05.029.
Dr. Tamanna Anwar is a Scientist and Co-founder of the Centre of Bioinformatics Research and Technology (CBIRT). She is a passionate bioinformatics scientist and a visionary entrepreneur. Dr. Tamanna has worked as a Young Scientist at Jawaharlal Nehru University, New Delhi. She has also worked as a Postdoctoral Fellow at the University of Saskatchewan, Canada. She has several scientific research publications in high-impact research journals. Her latest endeavor is the development of a platform that acts as a one-stop solution for all bioinformatics related information as well as developing a bioinformatics news portal to report cutting-edge bioinformatics breakthroughs.