The American Association for Cancer Research (AACR) Project GENIE serves as a worldwide precision medicine knowledge base with ever-increasing implications for clinical decision-making as well as connects cancer researchers from around the world.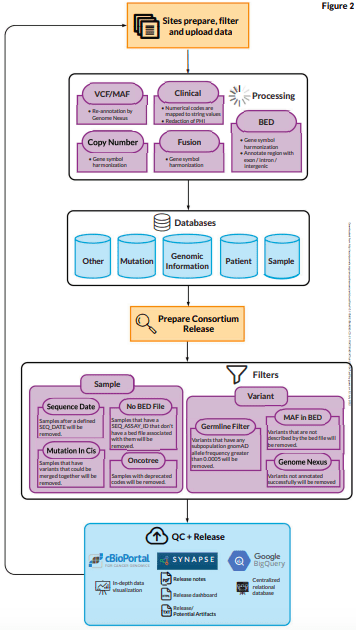 The AACR Project GENIE is known to be an international pan-cancer registry with the objective to illuminate cancer research and clinical consideration around the world.
Established in late 2015, the achievement of GENIE 9.1-public delivery consists of information from more than 110,000 cancers from more than 100,000 individuals treated at 19 cancer centers in the USA, Canada, the United Kingdom, France, Netherlands, and Spain.
In the given study, the scientists exhibit utilization of this real-world information, blended through a centralized data resource to precisely predict enlistment on genome-guided trials, find driver changes in rare tumors, and recognize cancer types without actionable mutations that could profit from the extensive genomic examination.
The extensible information foundation and governance system support more profound patient phenotyping through biopharma coordinated efforts and extension to incorporate new data types, such as cell-free DNA sequencing.
AACR Project GENIE keeps on serving a worldwide precision medicine knowledge base of expanding effect on illuminating clinical direction and uniting cancer researchers globally.
The AACR Project GENIE
Project GENIE (Genomics Evidence Neoplasia Information Exchange) of the AACR is a global, open-source, pan-cancer registry of actual clinical and genomic oncology data constructed through sharing clinical-grade sequencing and health information between participating institutions.
The project was introduced in late 2015 to create the database required to support clinical decision-making and ignite international translational research. Nine datasets have been publicly shared by the Project thus, with the public release of milestone 9.1, which includes variant calls from more than 110,000 tumors that this report is focused on.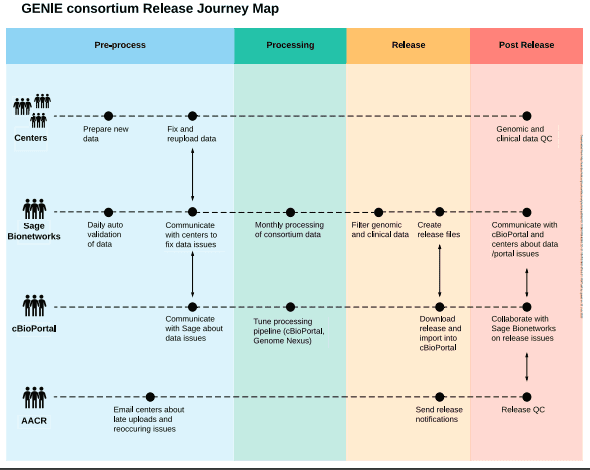 Notably, more than 10,000 tumors each represent the top three cancer categories in the registry, namely, breast, colorectal, and lung cancer.
The GENIE registry was created in part to collect the data required to demonstrate significance in both rare malignancies and rare variants in common cancers as demonstrated by the recent studies on breast tumors with ERBB2 mutation and AKT p.E17K mutation.
GENIE Data: A Resource for Somatic Variant Classification
The fact that the general public is using GENIE registry data is significant. More than 10,500 individuals have signed up to use the data as of April 2022, and 624 manuscripts have cited the registry.
Updated prevalence, external validation studies, and hypothesis creation are the three main sorts of studies that use the data. An examination of ethnic variants in genetic profiling of patients with metastatic prostate cancer in GENIE who had tumors from Black men possessed more clinically significant mutations than men from White or Asian ancestry and suggested more extensive controlled research.
Another study analyzed the molecular profiles of early-onset and late-onset appendiceal cancer and found distinctive non-silent mutations among younger patients, opening the door for the creation of possible treatment advancements for this uncommon condition.
Among patients with early-onset colorectal cancer, the same team also discovered distinctive distributions of non-silent mutations and tumor mutation burden by race.
GENIE data is widely used for somatic variant classification in clinical laboratories to help with cancer genome interpretation because of the growing size and scope of the data.
Project GENIE: The Ultimate Vision
The ultimate goal of Project GENIE is to improve clinical decision-making in order to improve outcomes for cancer patients.
The researchers present in this work a landmark analysis of more than 110,000 tumors from more than 100,000 cancer patients with a focus on clinical trial matching, variant actionability, rare tumor drivers, and opportunities for expanded genomic testing to illustrate aspects of clinically-oriented genome analysis possible with the current scale of GENIE data.
They also emphasize the evolution of the field of precision medicine over the past four years, putting these data in the context of the GENIE data's original publication.
The scientists anticipate that these instances will pave the way for more thorough discovery research as well as further promote the usage and expansion of GENIE data in all facets of cancer research.
Genome Profiling to Become a Part of Standard Practice
After the first release of 19,000 cases in January 2017, AACR Project GENIE has now made clinical and genetic data from more than 100,000 patients available, exceeding the stated projection of 100,000 cases within five years.
GENIE is a crucial tool for relating cancer genotypes to treatment results, with a focus on clinically-derived cohorts, accredited laboratory testing, and stringent data standards.
Data analysts can "catch the pulse" of precision oncology procedures using longitudinal data from the GENIE registry on a regular, recurring basis since clinical practice and trial design changes are reflected in the underlying data.
More than a dozen genetic variants have been elevated to FDA-recognized or standard of treatment since the first release, showing widespread adoption of genomic medicine approaches throughout oncology practice.
As genome profiling becomes commonplace, this allows gathering and learning from a growing volume of outcomes data.
Major Impact on Management of Cancer Patients
The expansion of GENIE has been fueled by the widespread use of genome-guided precision medicine and greater involvement; as a result, data from 19 cancer centers in the United States, Canada, the United Kingdom, France, the Netherlands, and Spain are now included.
This expansion has resulted in process improvements at all involved centers, as well as a regular open forum for technical discussions of genome profiling used in clinical settings.
Sage Biosystems' centralization of the data has made it possible to evaluate technical artifacts across institutions, systematically filter out common germline variants and mutations linked to clonal hematopoiesis, and disseminate the results to a larger audience through a dedicated instance of cBioPortal.
To discover and address lower frequency clonal hematopoiesis variants, center- or platform-specific hotspot artifacts, and variants in panel performance across sites, process improvement initiatives are continually improving these centralized filters.
The creation of a computer model to enable the comparison of tumor mutation load measures across the numerous various testing platforms within the GENIE consortium is an illustration of this.
The management of cancer patients will increasingly be impacted by comprehensive whole exome, genome, and transcriptome sequencing, as well as other types of genomic data. These systems and processes are easily expandable.
The Endpoint
With data from more than 110,000 tumors, AACR Project GENIE is currently one of the largest global repositories of clinically annotated genomic data. GENIE has become a potent tool for assessing genome-guided clinical trial design, identifying the factors that influence different cancer subtypes, and guiding the practical application of genomic data.
It will take consent and technical means for data created during cancer care to be seamlessly gathered and later converted into data systems for more extensive usage if we are to achieve a real learning health system.
In order to increase the use of clinically-consented data and completely facilitate the exchange of genetic data, revisions to present privacy and legal and statutory norms (such as HIPAA in the USA, PHIPA in Canada, and GDPR in Europe) may be necessary.
An example of such a global precision medicine approach that has benefited oncology research and clinical aspects for the past five years and will continue to do so for a very long time is the international governance framework of AACR Project GENIE.
Article Source: AACR Project GENIE: 100,000 cases and beyond. Trevor J. Pugh; Jonathan L. Bell; Jeff P. Bruce; Gary J. Doherty; Matthew Galvin; Michelle F. Green; Haley Hunter-Zinck; Priti Kumari; Michele L. LeNoue-Newton; Marilyn M. Li; James Lindsay; Tali Mazor; Andrea Ovalle; Stephen-John Sammut; Nikolaus Schultz; Thomas V. Yu; Shawn M. Sweeney; Brady Bernard; AACR Project GENIE Consortium. Cancer Discov cd.21.1547. https://doi.org/10.1158/2159-8290.CD-21-1547
Learn More About Bioinformatics:
Learn more to get deeper insights into the field of bioinformatics.
Freely available courses to learn each and every aspect of bioinformatics.
Stay updated with the latest discoveries in the field of bioinformatics.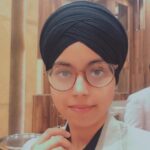 Tanveen Kaur is a consulting intern at CBIRT, currently, she's pursuing post-graduation in Biotechnology from Shoolini University, Himachal Pradesh. Her interests primarily lay in researching the new advancements in the world of biotechnology and bioinformatics, having a dream of being one of the best researchers.